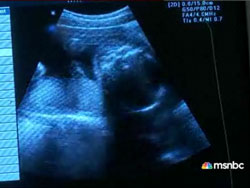 As always, the entire framing of the piece was wrong, and based in what are more often than not the wrong questions.
Because while this may be about access to abortion and women's reproductive autonomy for us, ultimately for Operation Rescue (in all it's iterations) and the like, abortion is merely a decisionalistic crowbar, a mechanism to be used to find who stands for or against them in their ongoing quest to remake this country (ultimately the world) in their own image.
They are part of a revolutionary social movement that seeks to structure America into what my partner and I have termed for years a "Biblical America," the social movement that seeks to use their interpretation of the Bible as the sole basis of all governance and social interaction.
That effort, far beyond abortion was what you heard in the streets and in the rallies over the course of the CPA events in Wichita. Those who think this is merely about abortion simply are not listening. The entire film missed the very nature of why OR and Roeder were there in the first place, they were quite simply there to scrape anyone and anything that is not of them out of their way.
The assassination of Doctor Tiller then, must be understood within that broader context, not merely of "taking out" a key abortion provider and outspoken proponent of abortion access, but as what to them is nothing less than taking territory. When they see this new Wichita with no providers they see more than merely "no abortion", they see in certain delusional ways the city and the area as taken territory. Not just as a place where their Coercive Pregnancy Indoctrination Centers (gateways to the christian eugenic adoption movement) can flourish, they see a cleared space, both metaphorically and literally. A space where they now hope to firmly install their programs, their politics and linguistic structures, never mind the fact that their fantasies rarely unfold the way they wish.